Needlefish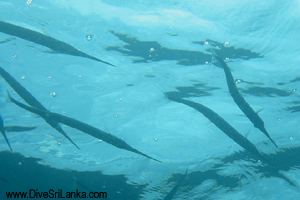 A family of surface fishes. Above: The Schooling Needlefish (Platybelone argalus). Also, the Crocodile Needlefish (Tylosurus crocodilus) occurs in Sri Lanka has been sighted around Pigeon Island, Trincomalee.
< To return to the page where you came from: Click the Browser Back button or hit the Backspace Key .
< To open the Main Fish & Coral index: Click Here.