Sergeants (POMACENTRIDAE-5)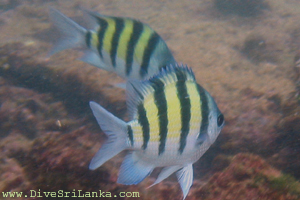 Sergeants are a type of damsels. Name derives from the resemblance to insignia adorned by armed forces. Commonly seen in schools frolicking around hard Coral. Seen here is the Sergeant Major (Abudefduf vaigiensis).

< To return to the page where you came from: Click the Browser Back button or hit the Backspace Key .
< To open the Main Fish & Coral index: Click Here.