Getting there
Batticaloa is about 300 KM from the Capital City Colombo (See map on right). Getting there is generally a 7 to 8 Hour affair. (But leave at 3.30 AM and you can get there by 8.30 AM) Public Transport is available but is more time consuming and may take up to 10 to 12 hours. Vakarai is north of Batticaloa. There is good diving all the way from Batticaloa, Pasikudah to the north and Vakarai further north.
South of Batticaloa, 30KM south to be precise, is the village town of Kalmunai
Flying to Sri Lanka: The only International Airport in Sri Lanka is the Bandaranaike International Airport situated about 30 KM north of Colombo.
Diving
The diving season in Batticaloa/Vakarai/Kalmunai is from May to September
Accommodation
Good accommodation is sparse and hard to come by as Batticaloa is still not developed for tourism. However, we can recommend the Riviera by the lagoon and the Bridge View Guest House as decent and moderately comfortable accommodation options.
Pasikudah beach is a very popular tourist resort and there are many choices for accommodation from basic guest houses to 5-Star super luxury hotels.
In Vakarai there is not much choice. We recommend you stay in Pasikudah and dive Vakarai area.
In Kalmunai you have the Holiday Beach Resort as the only decent accommodation in the area.
Where to eat
We recommend that you make arrangements for meals at your hotel or guest house. If you fancy local vegetarian meals (quite close to southern Indian cuisine in taste) there are plenty of options in the town of Batticaloa. These could be a bit crowded but nevertheless a fun & unforgettable experience and the food is clean.

Transport within Vakarai, Pasikudah, Batticaloa, Kalmunai
Public transport is available but could be sporadic and not reliable. You could also use the omnipresent Three Wheelers (Tuk-Tuks). Always agree on the price before you get in. Prices vary and it is best you get advice from your Hotel about prices before you hail one. The hotel you stay at may also be able to organize transport.
Keep these emergency numbers readily accessible before diving.
Batticaloa Police: 065-2224423
Batticaloa Hospital: 065-2222261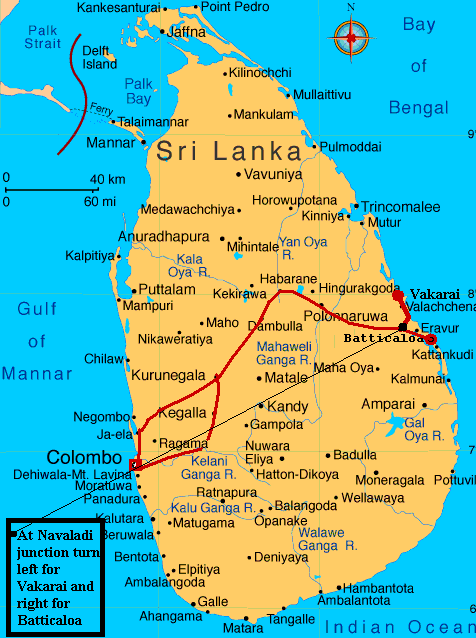 The journey to Batticaloa is through the ancient Sri Lankan kingdom of Polonnaruwa.
This is one of the best places (if not the best) to see remnants of a 2,500 year old civilization.
The journey from Polonnaruwa to Batticaloa is through very arid and harsh bush like terrain.
Sightings of Elephants, Pea Cocks, Deer and Mongoose is a common occurrence.